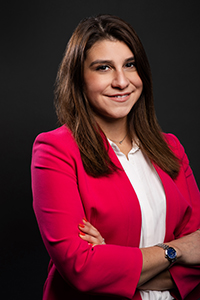 Raised in Waterloo, Azin is thrilled to practice in her hometown and serve her community. Azin's practice is primarily focused in the area of Litigation & Dispute Resolution; including contract disputes, wrongful dismissal & employment litigation, and estate litigation.
Prior to joining us, Azin was a sole practitioner in criminal defence in Kitchener, having started her own firm in 2019. During this time, Azin handled numerous complex cases and successfully negotiated favourable results for clients. Azin has developed a strong courtroom presence advocating for clients and continues to build a strong rapport with the community, court officials, and fellow lawyers.
Azin graduated from the University of Windsor Faculty of Law, where she was awarded the Bruce J.S. Macdonald Award of Excellence in Criminal Advocacy. During law school, she worked with Community Legal Aid in Windsor to provide legal services for vulnerable communities in landlord-tenant and Small Claims disputes.
Azin is pleased to be a part of the Matlow, Miller, Cummins, Thrasher team and looks forward to helping you with your case.
Practice Areas:
Litigation & Dispute Resolution
Construction Litigation
Employment
Personal Injury
Contact Details
Telephone: 519.621.2430
E-mail: [email protected]
Fax: 519.621.0072
Community Involvement:
In her free time, Azin enjoys exercising, cooking, and playing the drums.
Member of the Waterloo Region Law Association
Member of the Criminal Lawyers' Association
Member of the Shades Mill Law Association in Cambridge
Member of the Criminal Practitioners of Waterloo Region