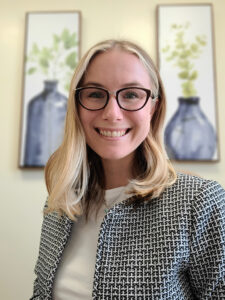 Articling Student 2021/2022
Kathleen is a recent Master of Laws (LL.M.) graduate of Osgoode Hall Law School. During her time at Osgoode, Kathleen worked for an experienced real estate law and estates practitioner conducting research, performing title searches and assisting clients with creating their wills and powers of attorneys.
Kathleen received her BA from Wilfrid Laurier University in 2017 and her LL.B. from the University of Birmingham in England in 2020. During her time at law school, Kathleen enjoyed participating in a number of clubs, serving as a member of the Canadian Law Society and the Birmingham Law School Mentorship Program.
Building on her experience, Kathleen is looking forward to developing her proficiency in Matlow Miller Cummins Thrasher's various practice areas during her articling term.
In her free time, Kathleen enjoys travelling, curling, golfing, and playing board games with her friends and family.
Direct Dial: (519)-621-2430 x223
Email: [email protected]