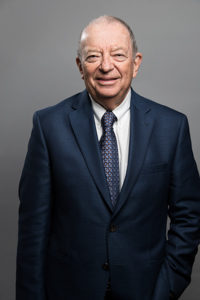 Myron practices primarily in the area of Corporate/Business Law, Commercial and Residential Real Estate, Wills, Estates and Family Trusts. Myron spends a large part of his practice providing legal services to professional and entrepreneurial business people who own their own practice or business.
Myron graduated with a degree in political science from the University of Toronto in 1963. Myron then enrolled in Osgoode Hall Law School, graduating with a Bachelor of Laws in 1966. He then articled with two law firms in the City of Toronto and was called to the Bar in March of 1968.
Myron then returned to his hometown of Galt, now Cambridge, where he joined Arthur White, a former Mayor of Galt and a Member of Parliament, together with his classmate, Robert Miller. They formed the law partnership of White, Matlow, Miller, a predecessor to the current firm of Matlow, Miller, Cummins, Thrasher LLP.
Myron's personal interests include traveling, cycling, reading, movies and theater.
Practice Areas
Business & Corporate Law
Commercial & Residential Real Estate Law
Wills, Estates and Powers of Attorney
Phone: 519.621.2430 x 212
Email: [email protected]
Fax: 519.621.0072