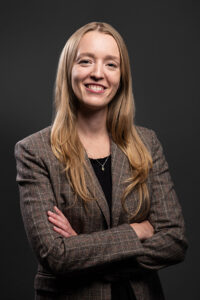 Victoria is a Licensed Paralegal and Notary Public. While studying history at the University of Guelph, she also studied areas of law and made the decision to apply to the Paralegal course after finishing her BA. Earning her P1 License in 2018.
Victoria focuses on Landlord and Tenant disputes, representing both Landlord and Tenants' legal interests. She also assists our firm with Wills and Estates, as well as Notary appointments.
Victoria being born and raised in a small town just outside of Cambridge, she is happy to be a part of the Matlow, Miller, Cummins, Thrasher team and appreciates our firm's history in the community.
Practice Areas:
Landlord & Tenant Law
Assists with Wills & Estates
Notary Public appointments which include:
Serving as an official witness to the execution of Contracts and Agreements
Certifying documents to be true copies of the original
Administer oaths for Affidavits and Statutory Declarations
Phone: 519.621.2430